Portfolio
Writing Samples
Congressional Research Service
Data visualisation, timelines, flowcharts, and internal collateral for the Congressional Research Service at the United States Library of Congress. Design aesthetic leaned clean and minimal, graphics were used in research products presented to congressional representatives and staff.
#NASAProud
#NASAProud was a series of motivational recruitment videos for the NASA Office of Human Capital Management. Videos had to be ITAR-compliant, in the public domain, and accessible according to Sec508 standards. I was in charge of editing, interview clip selection, B-roll selection from the NASA TV archive, music, closed-captioning, and preparation for distribution.
Surviving and Thriving on Mars
Trailer for a NASA Education Digital Network event on long-term Mars exploration. Entire video had to be built from existing NASA TV footage. I handled storyboarding, clip selection from the NASA TV archive, initial animatics, final edit, music, onscreen motion graphics, and preparation for distribution. Spinning Mars globe generated in Blender.
NASA APPEL
WordPress front end code and content management for the NASA Academy of Program/Project & Engineering Leadership. Wrote, formatted, and edited posts, generated custom headers, created templates and widgets for the APPEL website.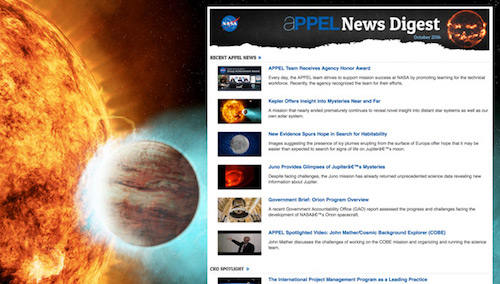 U.S. News & World Report
Front end web development for U.S. News & World Report news, rankings, editorial, and promotional pages. HTML and CSS layouts written over a Zope2 backend.
Smokescreen
Design, front end code, and PHP backend work for smoke-free activism sites, tobacco industry news and document archives, and unrelated travel and e-commerce portals.
MICA
Conceptual projects for a motion graphics class at the Maryland Institute College of Art's Digital Art Masters program, created in Adobe AfterEffects.
New Media Archives
Interactive menu screens for DVD-based video archives, servicing advertising agencies and production houses in the Philippines.
OmniPost
Broadcast TV commercials for advertising agencies in the Philippines, edited with Media 100 suite, vfx and composites created in Adobe AfterEffects. Includes two countdown concepts.
Jopogo
Freelance graphics and web work, various clients.